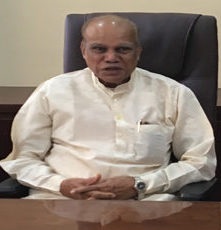 Shri. Vitthalrao Jadhav – Founder President
Jawaharlal Nehru Institute of Education, Science and Technological Research Trust
The Founder President of Jawaharlal Nehru Institute of Education, Science and Technological Research Trust is Honorable Shri. Vitthalrao M. Jadhav, under whose leadership, the trust has established more than 30 Educational Institutes all over Maharashtra in various fields like management, engineering, agriculture, bio-technology, research etc. Shri Vitthalrao Jadhav holds Master's Degree in Agricultural Science and has vast experience as Agriculture Professor of Pune Agricultural University for more than a decade. He is an extremely dynamic personality. His contribution and efforts for society have marked some big milestones in development of our country in the field of technology and Agriculture.
Shri. Vitthalrao Jadhav believes:
To build an educational trust means not only maintaining educational pattern but also convert educational institutes into modern temples for Nation, by maintaining high teaching standards and adapting modern methods of education. Learners should be educated globally to be competent and capable, which will become assets and wealth of Nation. Our students should be recognized internationally in all the field and mainly as good human beings and active nationalist citizens of our great nation.